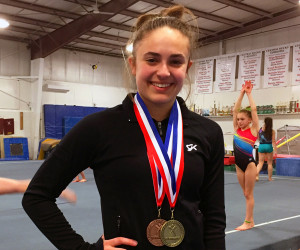 Melissa Ginaldi, a member of the Central Bucks Gymnastics team, won first place in her age group at the 2016 USA Gymnastics Women's Junior Olympic Level 9 Eastern Championship with an all-around score of 37.225.
The Level 9 Eastern Championship is the culmination of the USA Gymnastics Junior Olympic Level 9 competitive season. The event was held at the Virginia Beach Convention Center in Virginia Beach, VA from April 29th to May 1st.
Three other gymnasts from Central Bucks Gymnastics competed in the Level 9 Eastern Championship and medaled. Gina Martino placed 2nd on vault and uneven bars, Emma Silberman placed 5th on balance beam and Savona Cerra placed 6th on uneven bars.