Level 5 State Championship Meet
March 4, 2017

-

March 5, 2017
Event Navigation
FANTASTIC FIVES TAKE ON STATES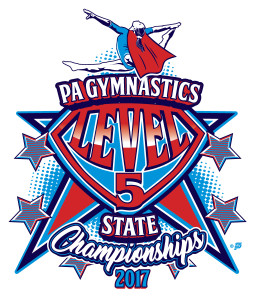 Meet Schedule
Saturday, March 4th
Session 1 – (47 gymnasts)  Junior A & Junior B
Open Stretch 8:00 am
March In 8:40 am
Competition 8:50 am
Awards 11:30 am
Session 2 – (44 gymnasts) Junior C & Junior D
Open Stretch 12:00 pm
March In 12:40 pm
Competition 12:50 pm
Awards 3:15 pm
Session 3 – (45 gymnasts) Junior E & Junior F
Open Stretch 4:00 pm
March In 4:40 pm
Competition 4:50 pm
Awards 7:30 pm
Sunday, March 5th
Session 4 – (47 gymnasts) Senior A & Senior B
Open Stretch 8:00 am
March In 8:40 am
Competition 8:50 am
Awards 11:30 am
Session 5 – (44 gymnasts) Senior C & Senior D
Open Stretch 12:00 pm
March In 12:40 pm
Competition 12:50 pm
Awards 3:15 pm
Session 6 – (47 gymnasts) Senior E & Senior F
Open Stretch 4:00 pm
March In 4:40 pm
Competition 4:50 pm
Awards 7:30 pm
Downloads:
Meet Format: Modified Capitol Cup Format: Two sets of equipment in gymnasium. Floor exercise and tumble strip provided.
Entry Fee: $85.00 per gymnast | $50.00 team fee – All registrations must be made through meetmaker.com
Entry Deadline: February 22, 2017 – A $25 per gymnast late fee will be added through Meet Maker for registrations received after the deadline. No refunds after February 22nd.
Schedule: Session times will be posted at pagymnastics.com and cbgym.com.
Equipment: Supplied by Mancino Manufacturing Co. Inc. – Vault – Janssen Fritsen Vault Tables | Bars – AAI Elite Uneven Bars | Floor – Baltic Birch Floor 42' x 42'  | Beams – JanssenFritzen Soft Top Beams | Birch tumble strip 6' x 55' for warm up
Awards: As per PA guidelines. Individual awards = 25% of each age division for individual events and all around. Team awards are awarded 50% of the teams entered, but not to exceed ten places.
Scoring System: ScoreMaster and Elite Score electronic scoreboard. Meet results will be published on Meet Scores Online at the conclusion of the competition.
Coaches Meeting: There will be a coaches meeting during Open Stretch for each session.
Coach Credentials: Coaches must have a current safety certification and background check credentials. All coaches must present USA Gymnastics card at check in or coach will not be permitted on the competition floor.
Admission Fees: Ages 12 & under – $5 | Ages 13 & up – $10 | Multi Day 12 & under – $8 | Multi Day 13 & up – $15.00 | There will be no free admission or discounts for USAG registered athletes or coaches NOT PARTICIPATING in this meet. Competitors may attend other sessions without charge.
Senior Gymnast Bios: Graduating seniors should fill out and return the bio information form to Laurie Lengel, Central Bucks Gymnastics, 929 North Easton Road, Doylestown, PA 18902 or email it to meetdirector@cbgym.com by February 15th.
Floor Music: Provided by Central Bucks Gymnastics.
Hotel Information:
Hampton Inn & Suites, 1000 Stony Hill Road, Yardley, PA
Ph: (215) 860-1700 | From $99.00 night
Homewood Suites, 110 Pheasant Run Road, Newtown, PA
Ph: (215) 860-5080 | From $104.00 night                                                  
Holiday Inn Express & Suites, 3101 West Cabot Boulevard, Langhorne, PA 
Ph: (215) 757-4500 | From $88.00
Courtyard by Marriott, 5 Cabot Boulevard East, Langhorne, PA
Ph: (215) 945-7980 | From $109.00 night
 All hotels are located within 20 minutes of the meet venue.
Restaurants:
Chik fil a – Newtown
Applebees – Newtown
Irish Rover Station House – Langhorne
Buffalo Wild Wings – Langhorne
Red Robin – Langhorne
Olive Garden – Langhorne
Bertucci's – Langhorne                                                   
Bonefish Grill – Langhorne
Historic Langhorne Hotel
Area Attractions:
Peddler's Village – Discover a historic village with charming colonial-style buildings, award winning gardens, and distinctive shopping, dining, and lodging. For more than 50 years, visitors have followed the winding brick pathways to experience exceptional dining, explore the best of Bucks County shopping, enjoy family fun at Giggleberry Fair, escape from the everyday to a getaway at the Golden Plough Inn and celebrate favorite traditions at seasonal festivals and annual events.
Tyler State Park – Tyler State Park consists of 1,711 acres in Bucks County. Park roads, trails, and facilities are carefully nestled within the original farm and woodland setting. Neshaminy Creek meanders through the park, dividing the land into several interesting sections.
Historic Downtown Newtown – The Newtown Historic Association, Inc. was incorporated in 1964 as an organization dedicated to the preservation of Newtown's historic heritage. Our mission is to stimulate interest in, preserve, celebrate and share the historic significance of both Newtown borough and township.
Washington Crossing National Cemetery
Historic Downtown Doylestown – Doylestown, Pennsylvania is located in the heart of beautiful Bucks County. As the County Seat, Doylestown offers a rich history, passionate community, and an eclectic mix of businesses, restaurants, and services. Our town was named by Travel and Leisure Magazine as the #13 best small town to visit, and #1 for Arts and Culture in the country.
Newtown Theatre – Located in the heart of Newtown, Pa., the historic Newtown Theatre is the center of entertainment in its community. Young and old alike enjoy the convenience of seeing movies, live theater, concerts and more right around the corner in this charming, 300-seat theatre. A true gem of Bucks County.